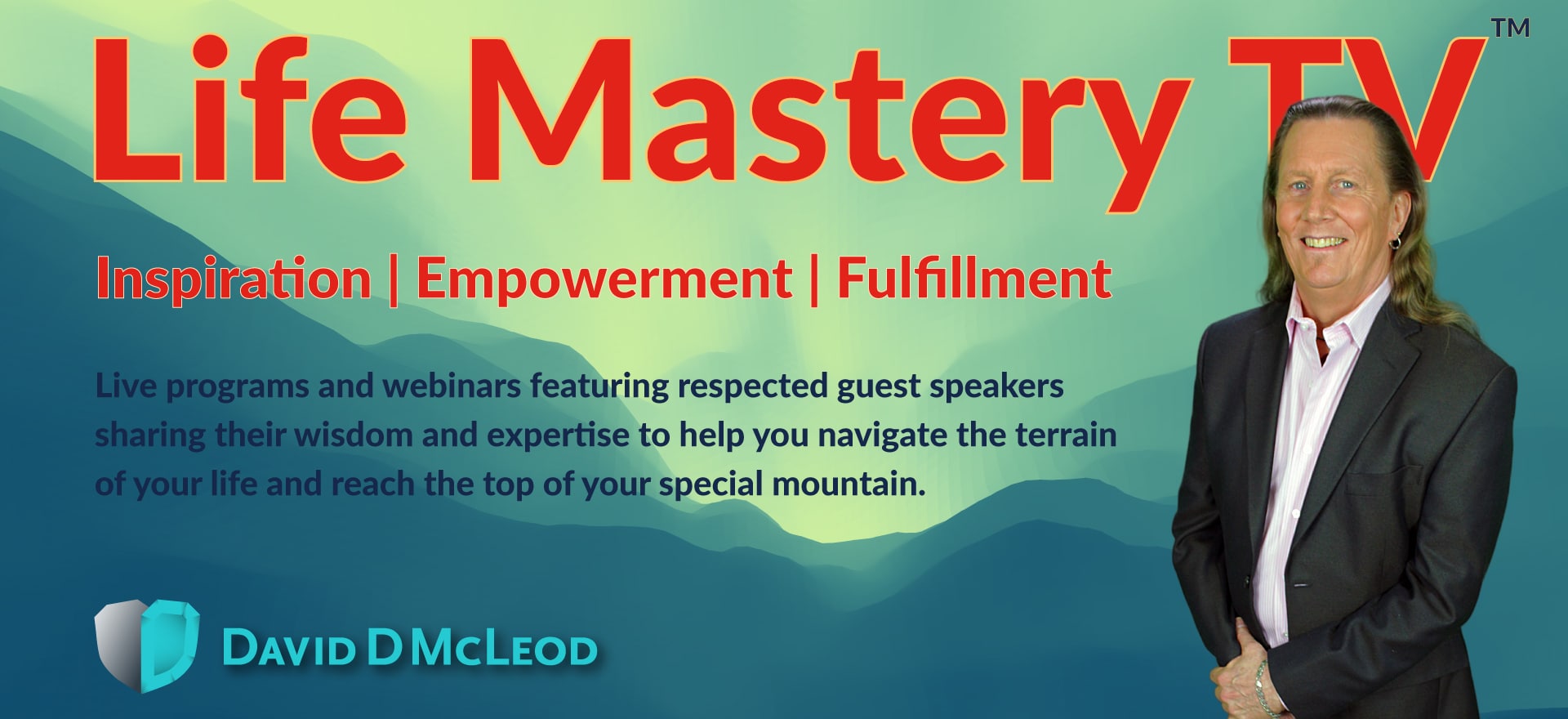 Welcome!
Welcome to Life Mastery TV, a constantly growing library of resources for helping you to enhance and improve all areas of your life.
You can participate in live free episodes with your host, David McLeod, and all kinds of amazing guests. These episodes air on the first and third Wednesday of every month at 11:00AM Mountain Time. All you have to do is pre-register up to 14 days in advance, and then join the webinar when it plays live.
If you are not able to attend live presentations, no worries. All episodes are recorded, and you can access any episode at any time if you obtain a free site membership subscription.
So, come on in, check out the website, watch some recordings, and leave your comments!
September 4th, 2019, 11:00AM MDT
"Our wounds are often the openings into the best and most beautiful parts of us." ― David Richo
No matter who you are or what you are here to do, one thing is pretty certain: you are on a life journey that is unique to you. No-one else will experience exactly the same things as you in exactly the same way. No-one else will learn the lessons you learn in exactly the same way. No-one else will have the same gifts as you and share them in the same way.
Pretty awesome, isn't it?
But there's something else that you may not have thought about: during your journey, you will encounter situations and conditions in your life that will cause you pain―perhaps even severe pain or trauma. And a big part of your journey will be the process you undertake to heal the wounds and traumas of your life.
In this week's episode, David will be joined by Healer and Transformational Coach Raelin Saindon, and together they will discuss this aspect of Life Mastery in some depth. Mark your calendar and make sure to attend the live presentation. Here's what's on the agenda:
Why We Need to Heal
We all go through experiences that create emotional, psychological or intellectual pain for us, and we don't always know how to heal that kind of pain―especially when we're young―so we often end up stuffing as far down as we can so we don't have to feel it. But "stuffing it" has a serious cost that we don't necessarily know about until too late―sooner or later we will have no choice but to heal it.
Relationship of Self to Others
As we grow up, our ego-minds give us a stronger and stronger sense of separation from everything and everyone around us. This creates a growing sense of aloneness and we begin to see our experiences as totally unique. Turns out, this is erroneous thinking that we need to correct.
Importance of Boundaries
In spite of our illusion of separateness, we tend to seek connection with others, so sometimes we allow our boundaries to be violated in order to create that connection. This can lead to obvious problems, so it's important to establish and honor our own boundaries―which allows us to honor the boundaries of others.
Heal Yourself, Heal the World
As you learn to uncover, illuminate, and heal the wounds that have haunted you since childhood, you automatically begin the process of self-love and self-acceptance that brings immediate healing to the whole planet―indeed, to the whole Universe.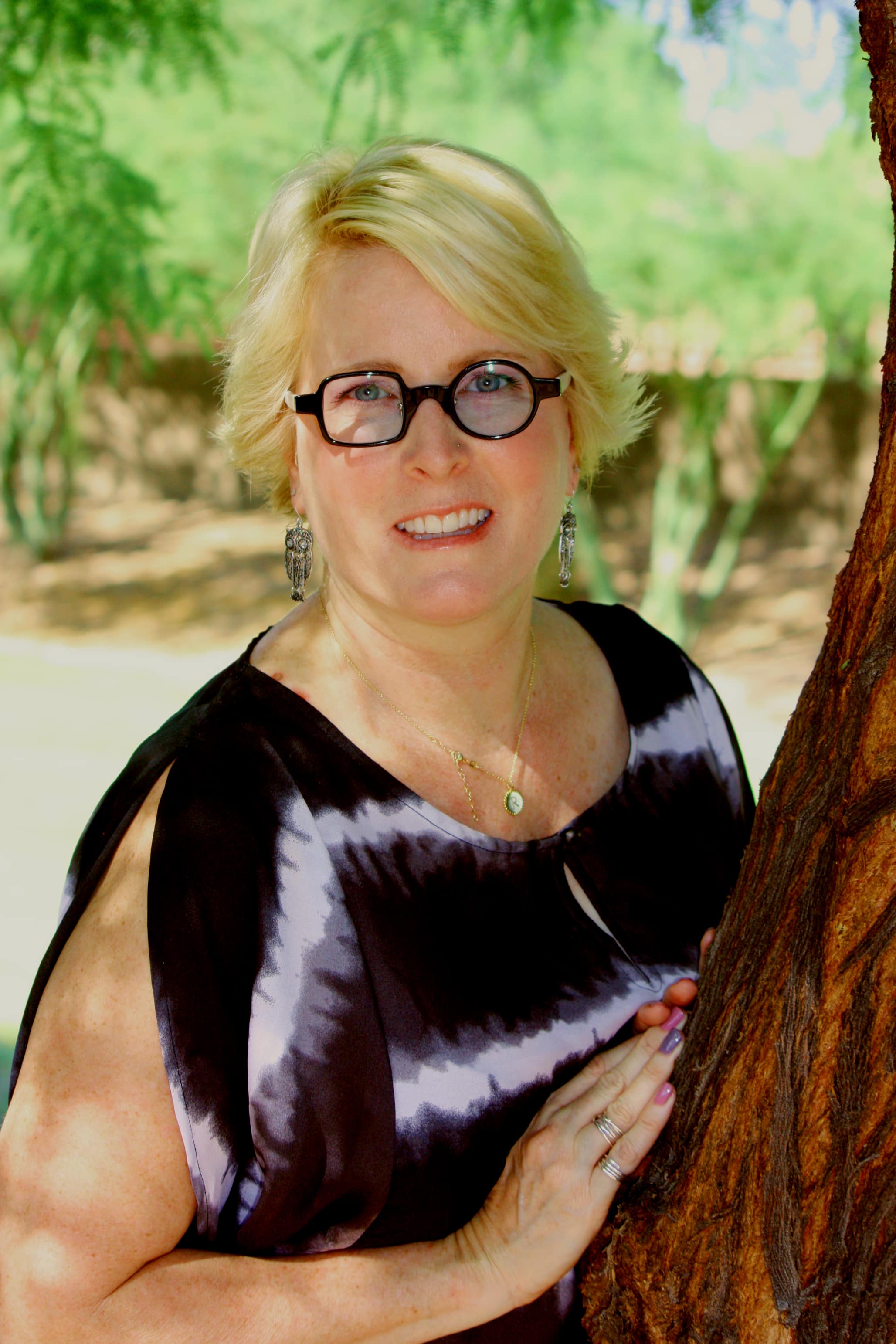 Raelin Saindon
As an Intuitive & Empath, Raelin Saindon has been studying herself and others for as long as she can recall. These abilities, which she is convinced every Human Being has, have been a source of confusion, isolation and loneliness for much of her childhood and early adult years. Acceptance and understanding of these abilities has been fostered by friends, guides and mentors along the way that encouraged and enabled her to witness her own reflection and gifts to this world.
Raelin hold a B.S. in Psychology. She is a Reiki Master Teacher, a Certified Ho'oponopono Practitioner, a Quantum Healer Practitioner, and an Emotion Code Certified Practitioner.
You can find more information if you visit Raelin's website at https://TheHealingSpaceCo.com/
September 18, 2019
Vanquishing the Joy-Stealing Dragons
Linda Shively
Joy is something we all love to have in our lives. It is an empowering and enlivening energy that keeps us moving forward no matter what else might be going on around us. But every once in a while―and maybe even quite often for some people―something comes along that seems literally to suck the joy out of everything, and life seems to fill us with a sense of doom and gloom.
When this happens, there's a very good chance that your ego-mind has taken over and is bombarding you with all kinds of stories about who it thinks you are. You may be second guessing your choices, or you may find yourself worrying whether you are good enough, or maybe you are plagued by a need for perfection. No matter what is going on when joy seems to have disappeared, you probably find yourself in a low-energy state with little or no desire to do anything.
Well, David's guest Linda Shively has some powerful ideas for dealing with this kind of situation, and she's going to be on the show sharing her joyful brilliance with you. As a speaker and "Joy Coach", Linda is the perfect person to help you reconnect to your joy. Join David and Linda for a live presentation that promises to be a lot of fun!
October 2, 2019
Love Yourself Happy
Shari Alyse
You may not know this―or (more likely) maybe you're simply suffering from temporary amnesia―but your natural state is one of pure joy. Depending on how your life has gone, and depending on your current circumstances, this may be a difficult idea to accept. Totally understandable. Nevertheless, it is true.
In this week's episode, you are going to have the delightful experience of of meeting a true Joy Diva―someone who has gone through some harrowing personal experiences that had her doubting her true value. But, as you will learn during this episode, she found a way to prevail, and she reconnected to that natural joy that was just waiting to be shared with the world.
You won't want to miss out on a chance to engage with Shari Alyse, so mark your calendar and make sure to attend the live presentation.